NEW WEB SITE: ALL NEW FEATURES AT YOUR CLICK

THE NEW WEB SITE OF RUBINETTERIE MARIANI IS ONLINE: BROWSE WITH US ALL THE NEW FEATURES AT YOUR CLICK
The site has been redesigned with the aim of making more information about products and company easily available.
All the sections are optimized and can be consulted by accessing from PC, tablet or mobile, to always have all information just a click away!
We have tried to make the consultation as practical and intuitive as possible, both for those who already work with our products and for those who enter without knowing precise names and codes.

Below is a summary of the main features and news:

HOME: the home contains links to the main product CATEGORIES and to the latest NEWS.
There is also a banner through which to subscribe to the NEWSLETTER: just enter your email address and accept the privacy conditions!
At the bottom of the page you will find quick links and links to all official SOCIAL NETWORKS (all social pages are also detailed HERE).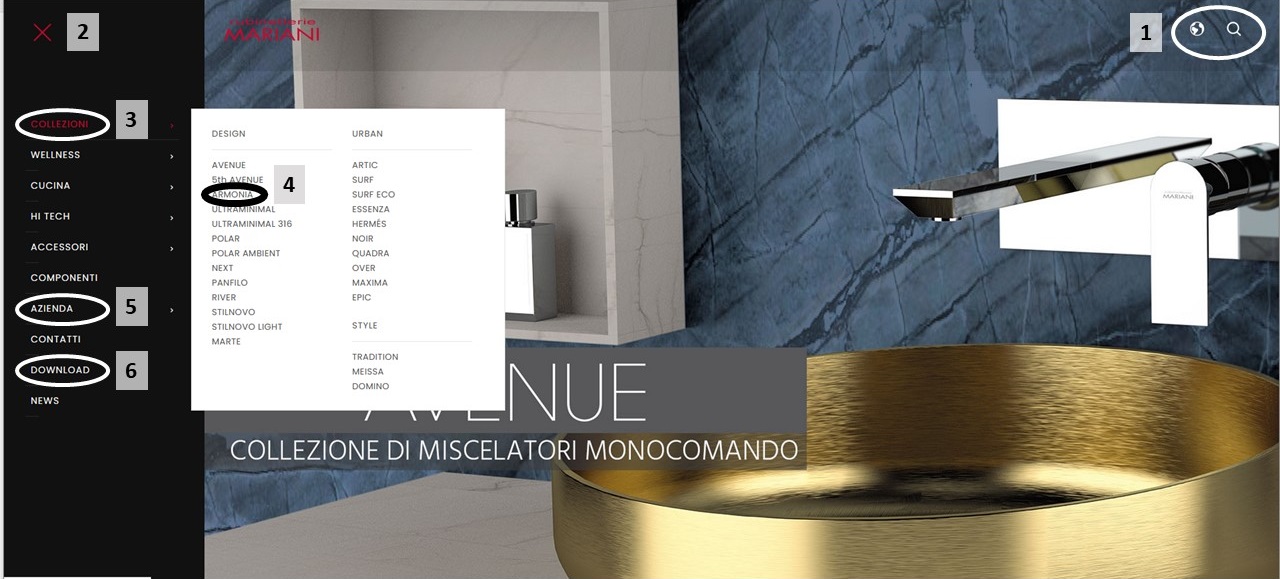 LANGUAGE: the site is available in Italian, French and English. The language is selected using the "world" icon at the top right of the PC or within the menu if you access from a mobile phone.
SEARCH: it is possible to search for a product either by writing a precise item code or by writing a few words of the description (e.g. mixer, basin, washing machine, polar ...)
MENU: the icon to access the menu is at the top left. All contents, categories and product collections are quickly accessible directly from there. To facilitate navigation on the site, the subdivision of the categories follows the same logic as our General Catalog.
COLLECTIONS: by moving the mouse on COLLECTIONS, the list of available collections opens directly, while clicking on COLLECTIONS you can view a summary page with all the previews of the faucet collections. www.rubinetteriemariani.it/en/content/12-all-collections
COLLECTION NAME: By clicking on the name of each collection, you access the relevant page which includes: a textual description of the collection, technical notes, a gallery with the main images set, the direct link to the brochure and the list of finishing options. Entering each single product you will find description, code and technical data sheets (under the heading TECHNICAL INFO).
COMPANY: a section to find out more about the history, values, distribution channels and production phases of Rubinetterie Mariani.
DOWNLOAD: a single area to access and download all information material.
All the tradition and elegance of Rubinetterie Mariani products are now at the complete disposal of those who, like you, are looking for the best and deserve a "Quality that lasts over time".